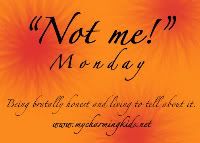 I did not fall back asleep this morning not waking up until after 12:00 noon completely blowing my whole day.
I did not forget about ground beef browning on the stove because I was looking at a gossip website.
I did not tell my Dad, who is working so hard on my bathroom, that the power was out, because I just needed a day of quiet
I did not to a crappy job of "Not Me Monday" because I have no time, since I did not sleep until noon!
<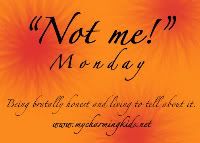 For more Not Me Monday fun, check out MckMama