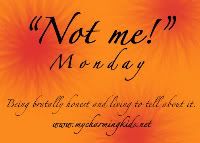 It was not me who fell asleep while eating Milk Duds on our fold out couch. It is also not me who was "found out" when her family noticed carmel stuck to the rear of her sweatpants & on the quilt I was laying on. Anyone know how to get carmel out of material. Not that I need to know!
It was not me who whined all Friday about having to start college classes Saturday morning, only to have a great time on Saturday & then decide maybe I should pursue a further degree. It has not been me who has taken 5 years to get a 2 year degree.
It was not me who let my sons off the hook when it came to cleaning their rooms, because I just didn't have it in me to care anymore.
There is no way I got up & drove to the bank & library this morning only to find them closed for MLK day. I would know it's a national holiday since my kids are home from school today!
I did not start crying when I was typing a forum message about my dream for 2009 being to feel happy on a regular basis. Depression robs people of their happiness, I am not gonna be that person anymore! (for reals)
Dang it, I also didn't burn the last 3 pieces of bacon that I was using to make my sons lunch. There's no way I would burn them because I was typing this blog post!
For more Not Me Monday fun, check out
MckMama